Born on August 29 in Hagen, Germany, as the third child of Anna and Emil Schumacher.
As a student in a class photograph, 1926. ES with suspenders in the middle of the front row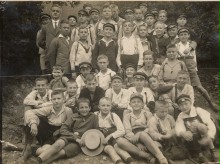 Enrolled in the secondary school in Hagen, Germany.
As a 18 year-old, Emil Schumacher undertakes a four-week long bicycle tour to Paris, France.
As secondary school student in Barmen, 1929. ES is third person from left in front row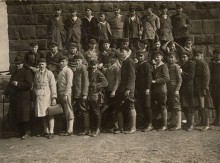 Studies graphic design at the School of Applied Arts in Dortmund intending to become a graphic designer in advertising.
On numerous occasions during his studies, he travels abroad by bicycle. One trip takes him over the St. Gotthard Pass to Lago Maggiore, Italy.
On a bicycle trip to the Baltic Sea, 1933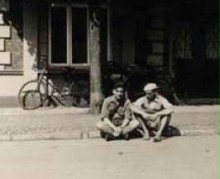 Independent artist without participating in exhibits. He undertakes study trips by bicycle to the Netherlands and Belgium.


Service obligation as draftsman in an arms factory, the Akkumulatoren–Werke of Hagen.